If you get invited to the Kentucky Derby the only acceptable answer is yes.
I slid into some premade travels plans made by family, this isn't a destination I would have likely chosen on my own before. Certainly now, any time that I have a chance to get to Louisville I will take it. People have been friendly and welcoming. Compared to Seattle it's like being in an episode of "Cheers" with Southern accents.
The Oaks is a race on Friday for fillies and Louisville locals before all the tourists come in for Derby. Or so I was told. Many locals prefer to do Derby parties than deal with the phalanxes in and around Churchill Downs. Drinks are cheaper and betting is just as exciting away from the track so why not?
Louisville is small city of 1.2 million last count, approx. 250,000 in the city proper, and a record Derby crowd of 170,513 (up from 165,307 in 2012) and a crowd of 123,763 for Oaks. It's enough to test the limits of any municipal infrastructure. My best advice for next year, don't prepay for parking. Getting around isn't convenient and yards run $10-30 a spot. Get out and walk. City coffers must be swelling with revenue, Louisville's "Black Friday" for tax collecting.
A single vendor at Churchill Downs will sell approximately 400 Juleps from their tray on Derby Day, not to mention the Kentucky Oaks race the day before. $11 will get you a souvenir glass full of bourbon, ice, and a mint sprig. Not to mention the actual concession windows, Lilies (vodka & cranberry juice), ice cold beer, food, souvenirs, and of course betting estimated at $137 million.
http://www.courier-journal.com/story/horse-biz/2015/05/03/record-kentucky-derby-oaks-crowds-fuel-profits/26806133/
Whether it is billionaire horse owners looking to add value to a champion bloodline with a victory, or a family looking for a quick couple hundred by transforming their yard into a couple hundred for parking, everyone is hustling for a dollar during the Derby and people are definitely looking to spend their money. It is a maddening scene for anyone trying to get anywhere, but a fantastic economic opportunity to sell bottled water, food, and more convenient parking on the lawns on the way to the Derby.
170,513 people packed in to Churchill Downs for the festivities. A new record for attendance. The weather was amazing, last year rained, pent up demand surely. The field certainly was compelling this year, but I cannot say that with any certainty that it had anything to do with the increase in attendance.
American Pharaoh looks like a real contender for the Triple Crown, a feat not accomplished since Affirmed in 1978. California Chrome had a lot of optimism and hype for the Triple Crown last year before falling short in the final race. After watching Pharaoh kick the homestretch at the Rebel Stakes in Arkansas there was a great deal of deserved attention and hype. Perhaps it isn't hype, maybe this is the year the championship drought ends.
We entered Churchill Downs via the infield through a tunnel before heading to the Grandstand. Not quite as wild a scene as I was lead to believe, but one passage via HST did ring true:
"Total chaos, no way to see the race, not even the track … nobody cares. Big lines at the outdoor betting windows, then stand back to watch winning numbers flash on the big board, like a giant bingo game."
This is where the college set come with their lawn chairs and coolers. There are precious few bits of shade aside from the massive hats worn by attendees. People passed out from the combination of sun and alcohol. And of course there are wagering windows everywhere you turn.
There is almost no excitement in horse racing unless you laid a bet, no matter how miniscule, on a sport you have little to no understanding. Or you've had too much to drink. Or a combination of both.
Another patron sitting a row behind me ran a statistical analysis that lead him to believe that Frosted at 15, or Dortmund at 8, would be more likely to win the race and all the attention for American Pharaoh was just a sucker bet. Pharaoh's owner had no such concerns about the post position as long as it was not the dreaded 1 spot on the rail where the inevitable jam up of jockeys and thoroughbreds would certainly preclude a trip to the winners circle.
"The 18 post has never won the Derby buddy, save your money."
Earlier in the week Ahmed Zayed, owner of several horses besides American Pharaoh, had stated that he would take any position as long as it wasn't the dreaded first position on the rail. The position on the rail is practically a death sentence. Unless you get a fantastic start out of the gate you are almost certain to be stuck behind several horses, leading wire to wire isn't likely to happen either. Zayed was ecstatic about the 18 spot and saw no reason why I should be dissuaded from picking Pharaoh.
I was once again accosted by my fellow gamblers waiting for the Betting Window when I blithely retorted that the 18 post was due for a win after sharing the insights done by my neighbor.
"That's one way to look at statistics. It's the wrong way, but it's way."
One of the few people who I spoke with who felt American Pharaoh was the smart money was a horse masseuse from Ohio dressed as a bee who shared her insights in line at the same betting window.
Just look at him, the way he runs and the lines, she gushed tipsy and slightly slurring her speech. Despite all the statistical analysis she was willing to trust her damn eyes and experience. She was picking winners, not dissecting numbers.
Dortmund was at the 8 post and was another popular pick to win. Lacked the mystique of American Pharaoh but an impressive horse nonetheless. Big Brown
The race itself was exciting and Dortmund grabbed an early lead. American Pharaoh ran third much of the race before making the final kick three horses wide on the final turn and winning by nearly a length down the homestretch for the win. Victor Espinoza, jockey on American Pharaoh, declared himself "luckiest Mexican on Earth." Bob Baffert, trainer for Dortmund and American Pharaoh won his fourth Kentucky Derby.
https://youtu.be/KwMuXuS4kyE
Of course I couldn't help but mention the pioneering victory for the horse on the 18 post to my neighbor in the Grandstands. He may have been disappointed, but I was still glad to see that someone at least ran some numbers on their own. If it wasn't for a couple comments about wagers I made I might have kept my mouth shut. But I couldn't resist kicking him in the shins, "18 post," I reminded him.
Don't forget to hedge your bets. Don't put all your eggs in one basket unless you don't mind losing your money. You can spend all day picking long-shots to win or trifecta parlays for big payouts, but picking horses to show is a lot easier to win.
Getting out of Churchill Downs via the the infield is probably the worst decision we made all weekend. Drunken chants of. "USA! USA!" erupt as the revellers enter the tunnel that take you under the track and to a narrow gate that slows the pace to a methodical trickle of tiny steps towards sitting in traffic to get to the freeway.
No one cares about any single aspect of the Derby (including the race), it is only important that you are there and you are seen there in your finest. It's a swirling sea of manic depression fueled by alcohol and gambling. Highest of highs and the lowest of lows. One young woman was so drunk at Oaks that she needed two young men to assist her despite the empty threat to "drop her ass" over her "Kentucky Blue toenails." Others flashed their winnings to their friends as they discussed plans to spend their newfound riches.
The nouveau riche of the Derby are the most conspicuous of all. I didn't sight high-rollers handing out hundred dollar bills to strangers a la Wes Welker (a horse owner himself) but anyone who won anything can't help but brag slightly at their good fortune. I certainly couldn't help myself.
It appears that we have come full circle on the times from Hunter S. Thompson's "The Kentucky Derby is Decadent and Depraved" over these 45 years. Juleps and circuses on a canvas of pastels, opulent head wear, seersucker, and boat shoes. It's a drunken J. Crew catalog scene in middle America.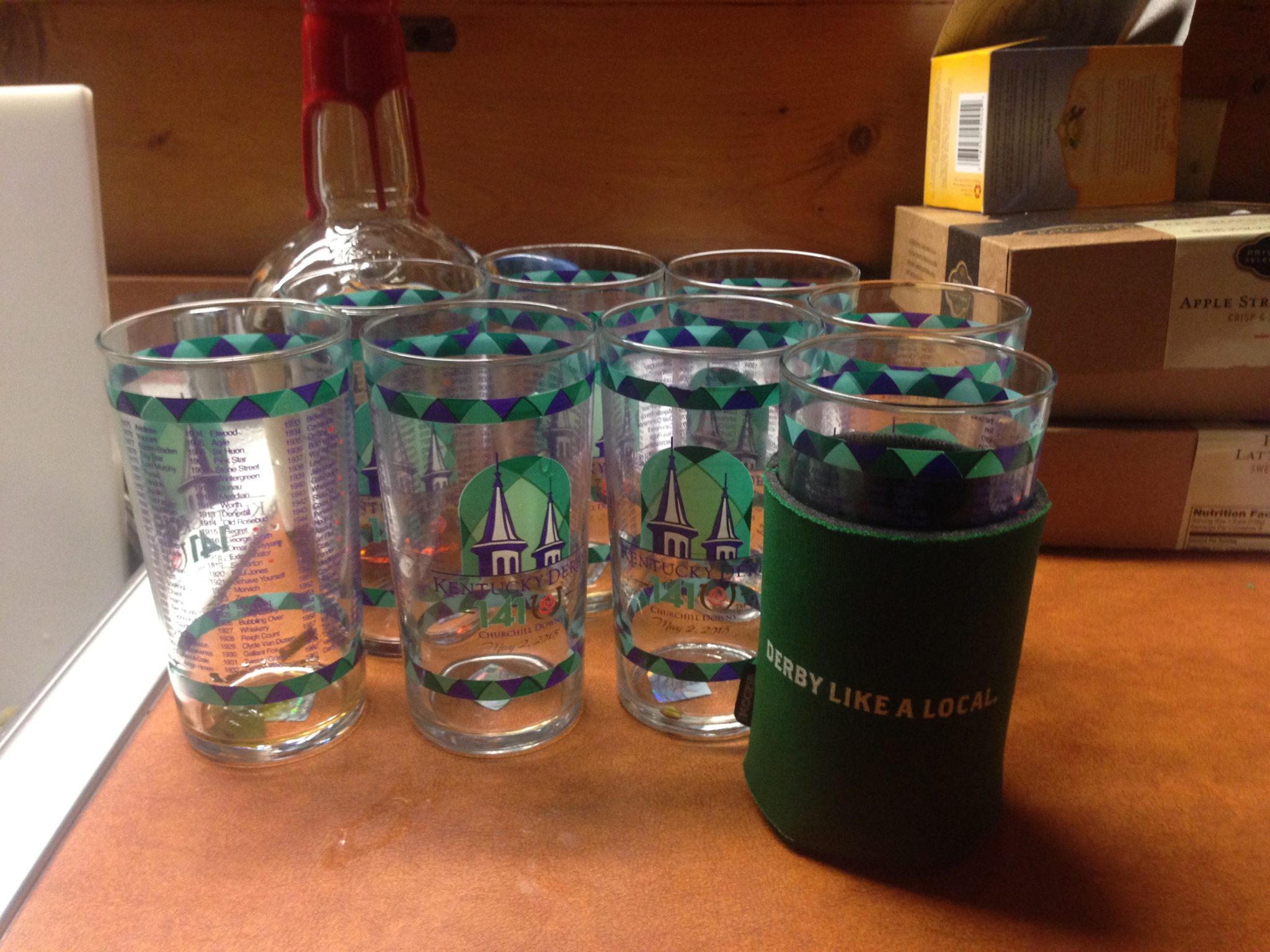 Thompson's Derby in 1970 had ominous overtones of violence at Kent State, racial tension and Black Panther protests, and a war being fought for all the wrong strategy and base emotional politics. Very little had changed in this foul year of our lord Two Thousand and Fifteen. I saw police with eyes fixed on television in Chicago O'Hare Airport in a Cubs bar only to find out they were watching the start of curfew in Baltimore.
More schadenfreude than a baseball game to be certain.
Either we have made little progress in the 45 years in between these two tales, or we have come full circle. Violent racial tensions, controversy surrounding the practice of law enforcement by the police and military in these United States, and a war started fourteen years ago out of political expediency and fear based on bad intelligence. I would like to think that things have gotten worse, but it is just as likely that they are exactly the same except for our ability to capture and broadcast these transgressions with a smartphone.
We can't focus on our problems constantly, that is the importance of festivals and celebrations. We need the distraction from our problems from time to time but we seems to pay more attention to the shadows on the walls than the entities that are casting them.
While our mobile devices are there to put us in touch with each, they also protect events in history from inaccuracy and bias. Surfing the web or checking Facebook in the middle of 170,000 people is exactly what makes that kind of technology isolating while simultaneously making us feel more connected and important that we actually are.
Hunter S. Thompson had been seeking a archetypal character for Ralph Steadman to draw. A face he had seen many times.
It was a face I'd seen a thousand times at every Derby I'd ever been to. I saw it, in my head, as the mask of the whiskey gentry — a pretentious mix of booze, failed dreams and a terminal identity crisis; the inevitable result of too much inbreeding in a closed and ignorant culture…..So the face I was trying to find in Churchill Downs that weekend was a symbol, in my own mind, of the whole doomed atavistic culture that makes the Kentucky Derby what it is.
It wasn't until the end when he looked into the mirror and realized that he had turned into that caricature.
My eyes had finally opened enough for me to focus on the mirror across the room and I was stunned at the shock of recognition. For a confused instant I thought that Ralph had brought somebody with him — a model for that one special face we'd been looking for. There he was, by God — a puffy, drink-ravaged, disease-ridden caricature … like an awful cartoon version of an old snapshot in some once-proud mother's family photo album. It was the face we'd been looking for — and it was, of course, my own. Horrible, horrible …
It is my sincerest hope that we have this moment of introspection and clarity before we elect the next President. There are horrible, horrible things happening to people by our own doing and we can only confront this evil in the mirror.