[blackbirdpie id="46677633198600192″]
So, when you Google 'whitecaps' at Google.com. In fact the new expansion franchise for the MLS Vancouver Whitecaps doesn't show up in the first two pages unless you count the Whitecaps FC wikipedia page.
Google wants to return results based on geographic location, but does Google really think that I want information a minor league baseball team in Michigan? And why return the wikipedia page over the team page for Whitecaps FC?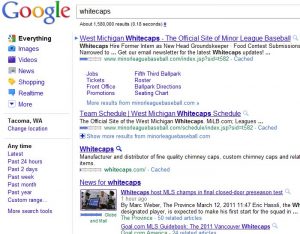 Searching on Google.ca, the unassuming Canadian version (emphasis on the 'eh'), whitecapsfc.com is the first result shown. No minor league baseball team.
Maybe Beau Dure is right, they do need SEO work. Their website has some glaring issues bad canonicalization, no meta description (as in nonexistent) and who know what else. At first I thought that it was just regional variation and that Google needs to sort out it's algorithm, but it actually does look like Whitecaps FC needs some SEO.
Final score Google 1-0 over Whitecaps, own goal.
BTW if you think Google is bad take a look at Bing.com they are getting shut out again.